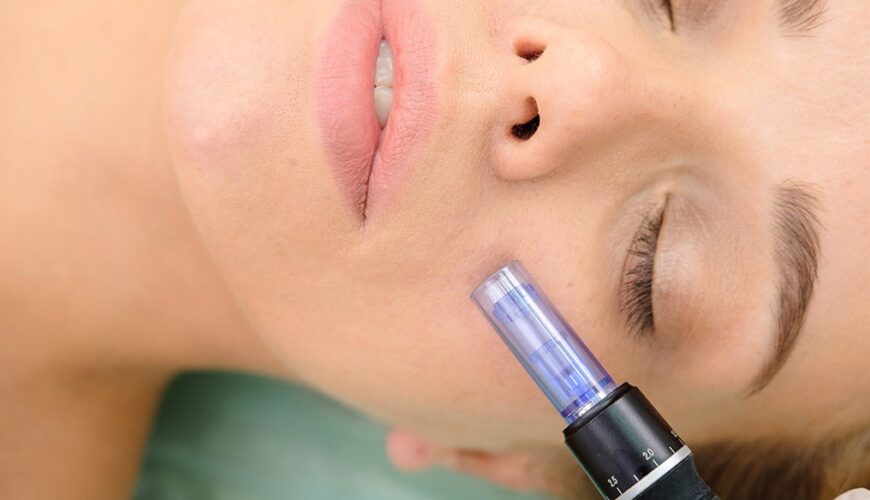 Microneedling with dermapen/dermaroller is also called collagen induction therapy. It is a fractional device using tiny pins to break collagen bonds that cause acne scars in superficial dermis. Evidence shows that causing localized damage can cause collagen induction.
FAQs
1. How often should I do microneedling?
Microneedling can be done safely every once a month or spaced between 4-6 weeks.
2. What to avoid before and after microneedling?
Avoid alpha hydroxy acids, beta hydroxy acids, retinol, Vit. C and direct sunlight for 48 hours before and after treatment. Avoid steam, sauna and hot water while washing face.
3. How long after microneedling can I wash my face?
Avoid washing face for a minimum of 4 hours post procedure.
4. What is Automated Micro-Needling?
Automated micro-needling (also known as Collagen Induction Therapy or CIT) is a new innovation in aesthetic medicine for treating the appearance of fine lines, acne scars and improvement of the skin's overall appearance. During this procedure, the Eclipse MicroPen™ is used to create controlled micro-injuries to the skin in order to produce collagen and elastin. Automated micro-needling also creates superficial micro-channels through which topical gels, creams and serums can be penetrated deeper into the dermis to help improve the appearance of the skin.
5. What are the benefits?
Micro-needling can significantly reduce and improve the appearance of fine lines and wrinkles, hyper-pigmentation, acne scars, traumatic scars and stretch marks.
6. What areas can be treated?
The Eclipse MicroPen™ can be used on all parts of the body, including the: face, neck, décolleté, arms, hands, legs, abdomen and back.
7. How is the procedure done?
Initially, your skin care professional will apply topical lidocaine to numb the skin and ensure a comfortable and pain-free treatment. Then, a thin layer of topical gel is applied and the pen is gently pressed against the skin while simultaneously gliding in one direction until the entire treatment area has been covered.
8. How long does the procedure take?
The procedure takes 30-45 minutes depending on the size of the area treated.
9. What is the downtime?
Immediately after the treatment you will notice a bright redness to the skin. The total healing time depends on the Eclipse MicroPen™ setting used and the number of overlapping passes your skin care professional performs. On average, patients are red up to 2 to 4 days. Many patients heal completely in as little as 24 hours.
10. When will I see results?
Patients notice an immediate "glow" to their skin. Visible changes to the skin develop over the course of several days and weeks. Results can continue to improve up to 6 months after a treatment as collagen production continues.
11.How many treatments will I need?
Some patients only require a single treatment once per year to achieve optimal results. However, it is recommended for most patients to receive a series of 3-4 treatments spaced about 6-8 weeks apart. For patients with deep wrinkles, advanced photo-aging, stretch marks or acne scars it is recommended to receive 6-8 sessions at 6-week intervals.